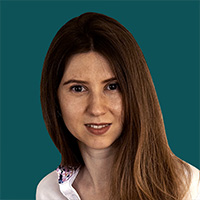 +38 050 383 11 30
tt@pavlenkopartners.com
Auditor's Certificate №007837
Registry №101297
Merkulova Tetyana
Auditor, junior partner
Education
Graduated from the Faculty of Economics of the Ivan Franko National University in Lviv in 2008.
In 2013 received the Certificate of auditor.
Experience
Has worked as Chief Financial Officer of the Group of Danish subsidiary agricultural companies for 5 years.
From 2008 to 2011 worked as an assistant of the auditor. From 2011 to 2013 worked as a specialist.
Since 2013 is an auditor in Pavlenko & Partners. Audit & Consulting LLC.
Specialization
Audit services
Consulting services
Accounting and reporting
Professional certificates:
DipIFR (ACCA) – International Financial Reporting
CAP – Certified Accountant Practitioner.
Languages:
Ukrainian
English
Russian